Why is my leg ulcer not healing?
This is a question we get asked a lot. And it's not a simple answer as there can be a multitude of reasons. We've put together some handy information below to try and answer your question about why your leg ulcer may not be healing and make sure you're well informed.
What do leg ulcers look like?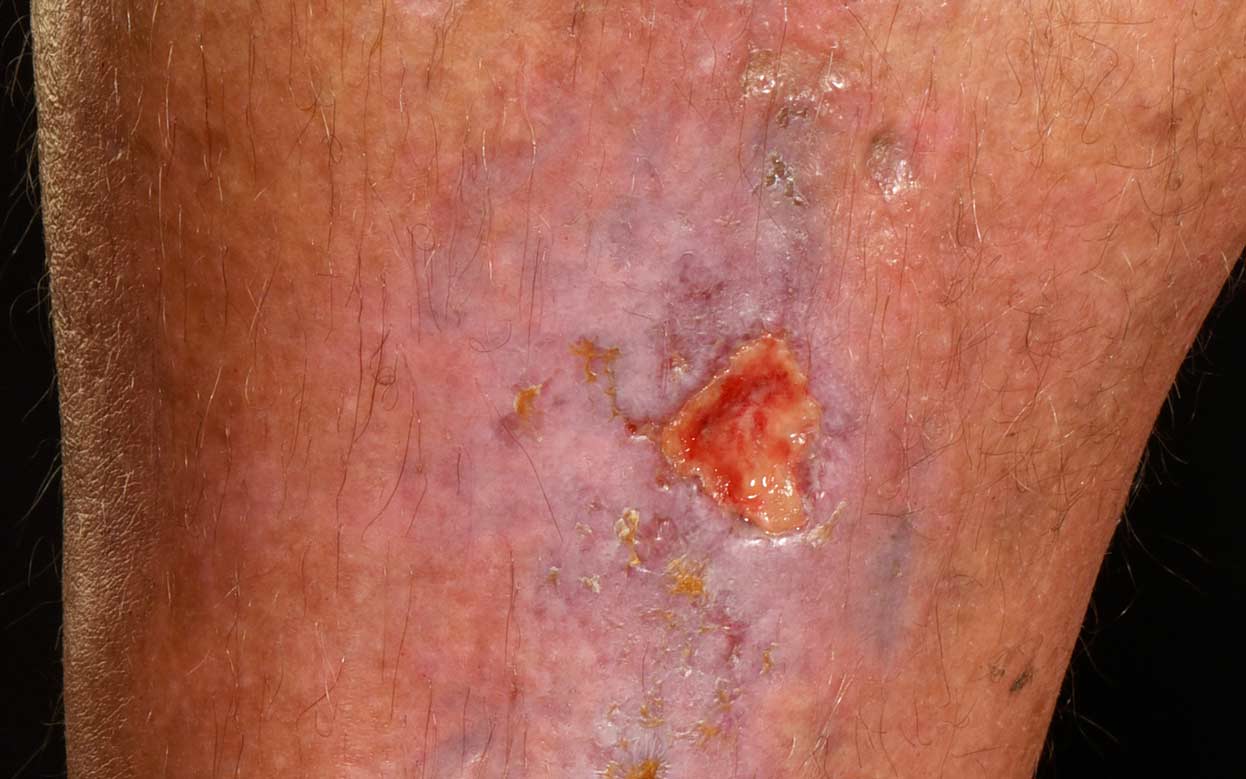 When should I be concerned about a leg ulcer?
We all damage our legs from time to time. It's easy to knock our leg on a car door or shopping trolley, or sometimes an insect bite can turn into a wound or leg ulcer.
These wounds should be showing signs of healing within 2 weeks of injury. If a wound is taking longer than a couple of weeks to show signs of healing or the wound is weeping and getting larger, then this might be a sign of an underlying problem which needs looking into.
Why might a wound on the leg not heal and turn into a leg ulcer?
This is because the wound is on the leg and is much more difficult to heal than wounds on another part of the body. We spend a lot of time on our feet and if we have any swelling, this will interfere with healing. If you stand a great deal, or you are carrying excessive weight, this will not help your circulation. Any wound, except those caused by arterial disease (see below) will benefit from some form of compression therapy.
What can cause leg ulcers?
Venous hypertension / insufficiency  – the most common cause of poor healing on the lower leg is venous hypertension. This is when the veins struggle to take the blood back up the leg, so the blood can pool at the ankle creating pressure in your veins
Peripheral arterial disease – another reason why our lower leg wound might not be healing is because not enough blood is getting down to our feet to heal the wound. This is then the opposite of the problem described above with veins.
Diabetes – peripheral arterial disease is a known complication of diabetes, which can lead to developing a leg ulcer or diabetic foot ulcer.
What should I look out for if I think I may have a leg ulcer?
Get to know what's normal for you when it comes to your legs and feet. Here are some things to look out for:
Swelling
Sores, ulcers or wounds that are not healing within 2 weeks
Tired, throbbing and painful legs
Varicose veins
Dry, itchy and scaly skin
Reddish brown staining above the ankle
Cramp or pain after walking
Hot, inflamed and tender skin
What should I do if I think I might have a leg ulcer?
If you have any concerns about the condition of your legs, even if you don't have exactly the same symptoms as described above, it's important to seek advice. If you have a wound or sore that isn't healing, make an appointment at your GP practice as it could turn into or be the beginnings of a leg ulcer. You might be given an appointment to see the nurse rather than the doctor as nurses are often responsible for caring for patients with leg problems.
What should I do at my leg ulcer appointment?
Remember to remove any nail polish from your toenails before your appointment.
When you see the nurse or doctor, they should:
Ask about your symptoms and how long you have had problems;
Examine your lower legs;
Do a simple test called a Doppler Ultrasound. This test compares blood flow in your ankle with that in your arm to find out if there are arterial blood flow problems in your lower leg. You may have to come back to have your Doppler test on another day or at another clinic.
You may also be offered some other tests to check for other health problems that can affect your legs such as diabetes and anaemia.
You may hear different words to describe your wound such as ulcer, leg ulcer, sore, laceration, chronic wound and maybe others. Ask your nurse to explain their choice of word and what this may mean for you.
After your initial leg ulcer consultation
Depending on your test results or what your condition has been diagnosed as having, often your practice nurse will help manage your condition with compression therapy. Or it may be that your GP or healthcare professional may refer you to a specialist health professional for further tests.
What should I do if my leg ulcer or foot ulcer isn't getting any smaller?
If your ulcer fails to progress, and reduce in size a referral should be made to a specialist service such as a Tissue Viability Nurse or your local Leg Club. If you have an ulcer that your GP or local specialist are struggling to heal, you can also ask to be referred to Accelerate, one of our coalition partners, while they are based in London, they do accept referrals from all over the UK, but you will need your GP to start this process. Failure to seek a reduction or progress of your leg ulcer could be a sign that harm is being caused to you, or the person your caring for. Get clear on what harm looks like and how to tackle it.
If you don't feel you're getting the help and support you need locally, you can get in touch with your local NHS Patient Advice and Liaison Service (PALs) who offer confidential advice, support and information on health-related matters.
If that doesn't work, you can even let your local MP know you're not getting the treatment you deserve. We've popped together a handy guide on how to do this.
What treatment might I be offered for my leg ulcer?
Compression therapy (support bandages, hosiery or socks) – if your wound isn't healing because of venous hypertension and there are no problems with the arterial blood supply to your legs, then you should be offered compression therapy. Compression therapy usually works very effectively and helps wounds to heal fast. It is thus essential to find a compression regime that is comfortable, provides the level of support you need and works. If this is inconsistently used or applied, this must be dealt with so that healing is not delayed
Compression therapy improves blood supply by applying pressure to the leg. This can be done by bandaging the lower leg or by wearing supportive socks, stockings or tights. To begin with it can be a little uncomfortable when you first start treatment but should not cause you any pain; it should feel supportive to your leg. Any discomfort should reduce as the swelling goes down. If you do experience discomfort, talk to your nurse or doctor about it and they will advise you on ways of alleviating this.
Getting a specialist, vascular referral for my leg ulcer
If you have venous hypertension / insufficiency, intervention to your veins might help with healing and stop your wound or sore from coming back. Sometimes varicose veins can be treated by laser therapy. But if you have peripheral arterial disease, you may require further investigations and the vascular team will be able to assess the need to improve the blood supply to your leg or whether your ulcer can be managed in other ways such as reduced / modified with compression.
Ask your nurse or GP for a referral to your local vascular team to talk about how their input might help you.
Additional resources
We have a whole host of leg and foot related resources from clinical papers to how to films.
Tell us what you think
If there's anything you want to ask us or tell us, whether it's a suggestion about our website, a complaint, or a compliment, drop us a line at
support@legsmatter.org
Other support
Accelerate Based in East London, Accelerate can accept national referrals from your GP / specialist to our world-class centre where we pioneer and trial experimental new treatments for chronic leg ulcers / wounds, lymphoedema and mobility challenges.
Contact details
020 3819 6022
hello@acceleratecic.com
Find out more on the Accelerate website
NHS Choices the official NHS website, which provides vital information and support about leg and foot signs and other symptoms.
Contact details
Call 111 - for non-emergency medical advice
Find out more on the NHS Choices website