Overview –

what is lipoedema?
Lipoedema is a long-term and complex condition that almost exclusively affects people assigned female at birth and leads to an uneven increase in adipose tissue (fat) mainly in the hips and legs, and sometimes the arms. But does not affect the feet or hands. Tenderness and painful legs are common in affected areas. We do not know how many women have lipoedema.
The increase in weight around the legs usually starts in weight gain at times associated with hormonal changes, such as puberty, pregnancy and menopause.
Symptoms – what are the signs symptoms of lipoedema?
Women often have symptoms of unusually large fatty legs for a number of years before symptoms of pain or the feeling of severe heavy legs may occur, at which point the condition may lead them to ask their health care professional and it may be suggested they have lipoedema.
What does lipoedema look like?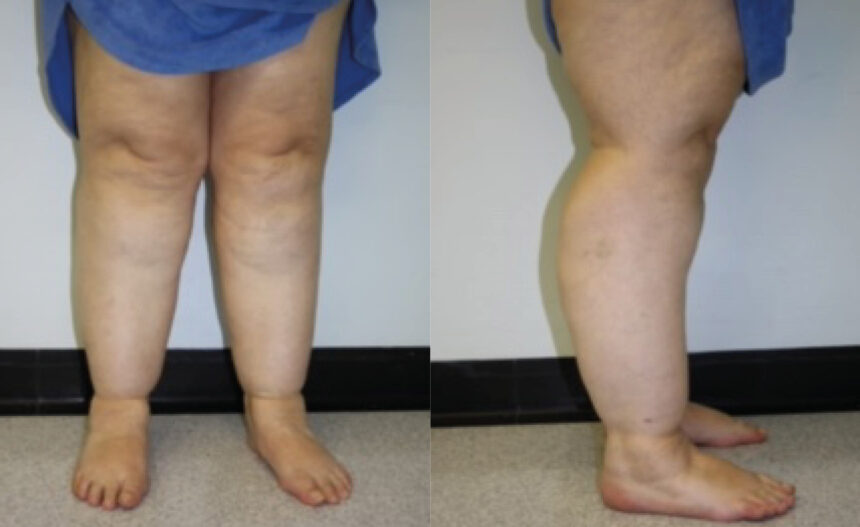 It is thought that the pain experienced by people with lipoedema is related to inflammation and reduced oxygen to the tissues. Unfortunately there is no test you can undergo to diagnose lipoedema, therefore not a lot of research exists about it.
There is no evidence of oedema / swelling in lipoedema but it is possible to have lipoedema and also suffer from lymphoedema / chronic oedema which may be related to obesity or other conditions such as vein disease.
It is not thought that lipoedema leads to weight gain but gaining weight does make the symptoms of lipoedema (pain and heaviness) worse.
Treatment – what treatment will I be offered for lipoedema?
Reduce / maintain healthy diet and body weight
People with lipoedema can often be overweight, so to reduce the symptoms of lipoedema and prevent it becoming worse, it is important to maintain a healthy diet and weight (rather than dieting for weight loss). If very overweight, those with lipoedema should seek professional advice from their primary care professional.
Focus on increasing your activity / movement.
It has recently been shown that regular exercise can reduce inflammation and it increases blood flow and oxygen in the adipose tissue (fat). Exercise can help reduce the symptoms of pain and heaviness in the legs as well as being good for our mental well-being. Many people with lipoedema say their symptoms are improved with swimming or water aerobics.
Wear compression
Compression therapy may have an anti-inflammatory effect on the tissues and can improve microcirculation so wearing compressive sportswear, lycra-style leggings or compression hosiery can make your legs feel more comfortable. However compression will not reduce the amount of fatty tissue or prevent an increase in fat if you gain weight. Flat knit compression hosiery may be more comfortable and would require referral to a specialist to be measured, prescribed and fitted.
Liposuction
In March 2022, the national Institute of Clinical Guidelines (NICE) concluded that there is not enough evidence to support recommending liposuction for lipoedema, and it should only be undertaken as part of a research project. Consequently, some sufferers are seeking treatment overseas. Anyone considering this is advised to read the NICE 2022 guidance, research the surgical team undertaking the procedure and consider the practicalities of post-operative support available and visit the Lipoedema UK website.
If you think you have lipoedema or if you feel that your mental health is affected by lipoedema you should get in touch with your primary health care professional.
Harm – the risk factors
Failing to recognise lipoedema as a condition / dismissing patients as just being obese causes substantial psychological harm, particularly as it tends to arise at times in the life cycle when people are vulnerable, for example during puberty
Encouraging severe weight loss in someone with lipoedema may cause nutritional imbalance
Other support
Some organisations you can contact for further information.
Accelerate Based in East London, Accelerate can accept national referrals from your GP / specialist to our world-class centre where we pioneer and trial experimental new treatments for chronic leg ulcers / wounds, lymphoedema and mobility challenges.
Contact details
020 3819 6022
hello@acceleratecic.com
Find out more on the Accelerate website
Lipoedema UK Their focus is to educate doctors, health professionals and the public about Lipoedema and its symptoms, so it may be diagnosed and treated earlier. They believe that with earlier diagnosis and treatment women can prevent developing further complications and manage their Lipoedema.
Contact details
info@lipoedema.co.uk
Find out more on the Lipoedema UK website
Diabetes UK Diabetes UK are the leading UK charity for people affected by diabetes it's their responsibility to lead the fight against the growing crisis. And this fight is one that involves all everyone – sharing knowledge and taking diabetes on together.

Contact details
0345 123 2399
helpline@diabetes.org.uk
Find out more on the Diabetes UK website
Tell us what you think
If there's anything you want to ask us or tell us, whether it's a suggestion about our website, a complaint, or a compliment, drop us a line at
support@legsmatter.org