Why the focus on harm for Legs Matter?
Legs Matter Week is back and in 2023 we're raising the alarm on the hidden harm crisis in the treatment of leg and foot conditions.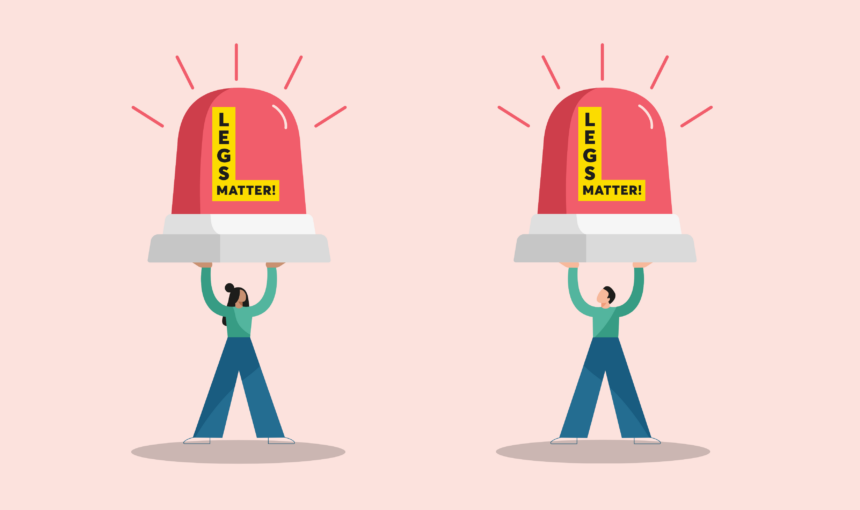 Why the focus on harm for leg and foot health?
We know that many people with leg and foot conditions are not being treated adequately or in time. As a result, they are being harmed.
This harm is unacceptable and avoidable – but we can act to stop this.
Through the year and during Legs Matter Week, we want to:
Raise awareness of the hidden harm crisis within lower limb care
Get people to start thinking about leg & foot harm and what they can do to prevent it.
Share some important new information around the hidden harm crisis and what we can all do to tackle it
How to get involved
Get your free action pack
Ask us for a Legs Matter Action Pack – we'll send you a pack with poster, leaflets and other promo items [link to action pack order page]
Host events and Legs Matter Natters
Host your own Legs Matter event during the Legs Matter week, or anytime. This can be anything that gets people talking about leg and feet. Share your event with us and we'll promote it for you.
Get social
Share our Facebook posts and Tweets.
Additional resources
Legs Matter's position on harm explains in further details about what harm means in the context of leg and foot conditions.
The Legs Matter Ten Point Plan to Tackle Harm – our approach to making the change we need to see