QNI recognition of the amazing work by Ellie Lindsay OBE and Dr Una Adderley
We're over the moon and incredibly proud to announce that two of our coalition members have received recognition for their lifetime of hard work and dedication in their chosen fields from the QNI (Queen's Nursing Institute).
Ellie Lindsay OBE became one of three new Fellows who were welcomed at Monday's awards ceremony alongside: Professor Deborah Sturdy MBE, Director of Health & Wellbeing at the Royal Hospital Chelsea; Dr Nicola Walsh, Assistant Director of Leadership & Development at The King's Fund. Dr Una Adderley received the Queen's Nurse title.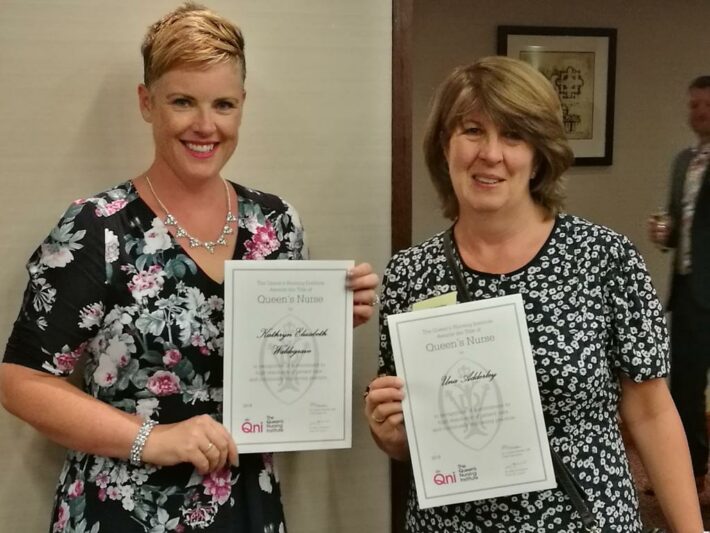 About the QNI
The Queen's Nursing Institute is a registered charity dedicated to improving the nursing care of people in the home and community. The annual event held by the QNI, celebrates new Queen's Nurses by presenting them with their title. Awards were also given to Phillip Goodeve-Docker Memorial Prize winners, Dora Roylance Memorial Prize winners, Outstanding Service Award winners and Fund for Innovation Project participants.
About Ellie Lindsay OBE – Life President – Lindsay Leg Club Foundation
Ellie's goal has been to put leg ulcers and associated conditions onto the healthcare agenda by seeking support from influencing decision makers (e.g. NICE, Parliamentary groups, Healthcare Commissioners and industry). She has been working in partnership with members of the public, Expert Patient groups, Department of Health policy developers, NHS managers and Healthcare professionals with an aim to raise awareness of preventative management of all aspects of lower limb related problems. Promoting good practice by forging relationships with nursing and professional organisations / societies, patient and industry groups, she regularly attends the All-Party Parliamentary Groups (APPG) and Medical Technology Group meetings (MTG), representing the Leg Club Members (patient) group.
About Dr Una Adderley – Lecturer in Community Nursing
Una is a lecturer at the University of Leeds  and one of the Trustees at the Tissue Viability Society (TVS). Her education and research interests focus on tissue viability, clinical judgement and decision making with a particular focus on leg ulceration. Her clinical background is in district nursing and tissue viability specialist nursing. She is currently involved in a number of leg ulcer and wound care initiatives at national and international level.
What Twitter said:
We welcomed 3 new Fellows@ last night's QNIawards ceremony: @LindsayLegClub President Ellie Lindsay OBE,Professor Deborah Sturdy MBE,Dir. of Health&Wellbeing,Royal Hospital Chelsea &Dr Nicola Walsh @nicolawalshkf Assist. Dir. –Leadership Development @TheKingsFund -Congrats 2 all!

— The QNI (@TheQNI) June 26, 2018
Very proud to have been awarded the title of Queens Nurse alongside my fabulous colleague @UAdderley, inspired by all who have become members of the #QNI tonight @TheQNI @LeedsHealthcare #proud #leadership #communitynursing pic.twitter.com/q3RUqEPviq

— Kathryn Waldegrave RN HV QN (@WaldyPhD) June 25, 2018