L&R have teamed up with Johnny Vegas in their NEW self-care campaign
Squeeze In aims to provide people living with lower limb conditions the motivation, knowledge and guidance to improve their leg health, so they are able to live life to the fullest and squeeze in the things they love.
The Legs Matter coalition are delighted to support this excellent campaign which aligns perfectly with our objectives and activities said Dr Leanne Atkin, our Chair
The campaign also emphasises the importance of self care in boosting self confidence and empowering those living with a leg condition to take control of their leg health.
Johnny Vegas, has lent his support to the initiative in reflection of his own experience of helping his father to manager his venous leg ulcer.
As a staunch ambassador of wearing socks with sandals on holiday, I thought my Dad had peaked in terms of leg embarrassment; body shame was something I never thought I would associate with him," he said reflecting on his dad's experience. "It became obvious that he felt that this was a stigma.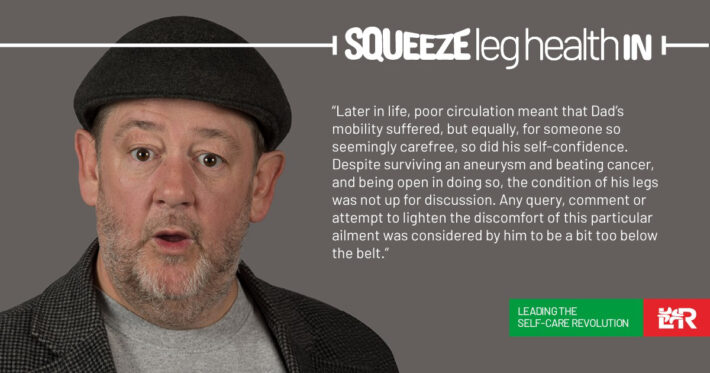 Johnny is keen to eradicate the stigma of lower limb conditions by promoting healthy conversation, as well as endorsing the value of self care in preventing escalation of leg conditions and empowering people to take care of their legs.
Johnny shares an open letter to his dad talking about his commitment to Squeeze In and raising awareness of lower limb conditions. Read more about the campaign.
If you have a lower limb condition, you can join Club Squeeze In today where you will receive:
Personalised email newsletters with hints and tips to manage leg and general health
Exclusive content from self care ambassador Johnny Vegas, and other experts
A pdf copy of L&R's Healthy Living Booklet, supported by  Legs Matter, covering skin care, compression, healthy eating, movement and much more
To join Club Squeeze In visit:
Are you a health care professional?
You can also sign up to Club Squeeze In to receive access to self care resources to support you when measuring patients for self care solutions, as well as tools for your patients on how they can self care and improve their leg health.
To join Club Squeeze In visit: