Recognise lipoedema early – free training for GPs, nurses and other HCPs
Do you recognise this condition?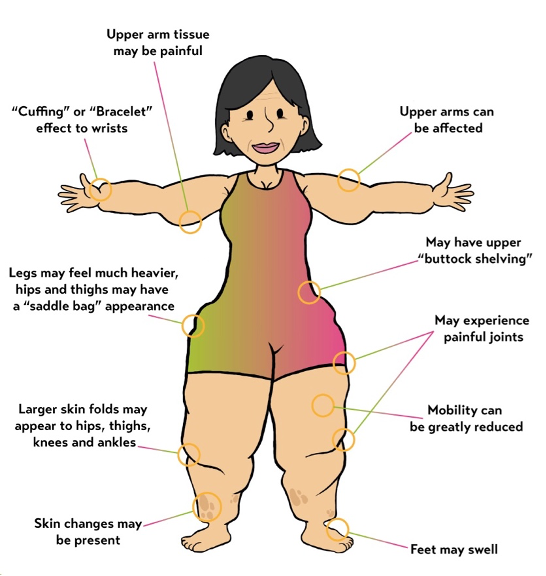 1 hour FREE CPD available until the end of September
At Lipoedema UK we are passionate about raising awareness of Lipoedema and this is a great opportunity to find out more about this adipose tissue disorder that has a devastating affect on so many women. Also a great way to gain CPD points and to support NMC re-validation requirements too.
A collaboration from RCGPs and Lipoedema UK
Lipoedema UK is the largest and most respected national patient body for lipoedema. Our mission is to educate doctors, health professionals, and the public about Lipoedema so it may be diagnosed and treated earlier and that services are accessible and fit for purpose. We offer advice and support to both individuals with the condition and HCPs.
Our Big Survey of 2014 reported that only 5% of women with the condition had been diagnosed by their GP. Unfortunately, diagnosis for women is still difficult and the condition can sometimes be misunderstood and mis-diagnosed as obesity or lymphoedema.
In 2014 Lipoedema UK and The Royal College of General Practitioners (RCGP) developed an eLearning course for the diagnosis and management of Lipoedema. The course has also been endorsed by the Royal College of Nurses.
Hurry, as this 1-hour RCGP eLearning course is FREE until the end of September.
We would really recommend this course to any GP, Nurse or HCP, it gives information on the presentation, pathophysiology, diagnosis and management of the adipose tissue disorder, lipoedema in primary care.
Two simple steps to access the RCGP learning course on lipoedema:
Become a healthcare professional member of Lipoedema UK
Why not make the most of all the membership benefits and become a healthcare professional member of Lipoedema UK? Join us in our mission to provide the support and services that all Lipoedema patients deserve!