Compression in heart failure: what does best practice look like?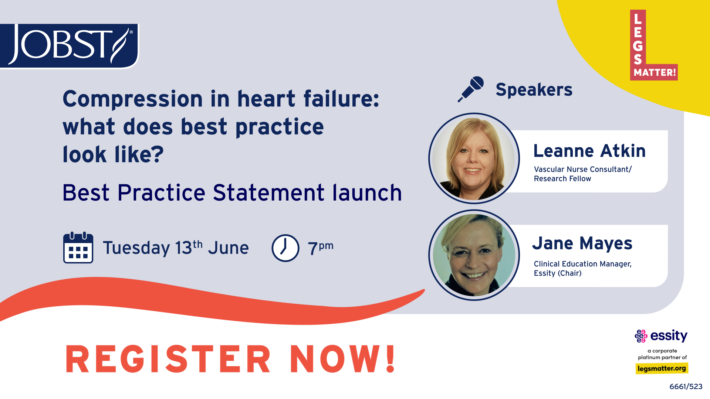 Online via Zoom
Book now
This event is being run by one of our Platinum partners in conjunction with Legs Matter
What's it about?
The use of compression therapy in heart failure patients is a topic many clinicians have reservations about with many myths existing, centred around a fear of overloading a patient's heart.
Supporting the launch of the new best practice statement, this webinar will cover the following learning objectives:
Raise practitioner awareness of limb oedema in patients with heart failure
Provide an overview of heart failure & compression therapy as a treatment approach
Encourage all clinical & support staff to collaborate to provide consistent care to patients with varying degrees of heart failure and oedema
It is vital to remember "apathy is not harm free, watching legs increase in size, blister and weep can be harmful to patients with this condition" (Leanne Atkin, Speaker) – the focus of this year's Legs Matter Week.
Who's it suitable for
Healthcare professionals – B2B.
Some of the healthcare professional roles that would find this event of high interest are:
District Nurse or Community Nurse or Community Staff Nurse
TVN or Leg Ulcer Nurse/ Specialist
Staff Nurse/ Practice Nurse/ Treatment Room Nurse / Care Home Nurse (Head of Team)
District Nurse or Community Nurse or Community Staff Nurse (Head of Team)
Lymphoedema Nurse / Specialist
Lymphoedema Therapist
TVN (Head of Team) or Leg Ulcer Lead
Wound Clinic Nurse / Generic Wound Nurse
Lymphoedema Lead
Contact details for the event
Essity UK
concierge.service@essity.com