Coping with sickle cell disease and a leg ulcer – Pamela's story
Pamela is 51 and lives in Stepney, East London. She's been having treatment for leg ulcers for the past 15 years. Pamela's leg ulcers began when she was in her mid-30s and studying at university.
"I was studying part-time at university and bringing up two young children when I first developed a leg ulcer. I thought it was a paper cut at first. It was a small crack that wouldn't heal. It just grew and grew. Soon it had turned into a 20cm open sore on my leg.
"The pain was agonising. I have sickle cell disease, which causes pain and makes me prone to leg ulcers among other things, but this was unlike anything I'd experienced before.
"It's the sort of pain where all you can do is cry because there's nothing you can do about it"
"I was referred by my GP to a hospital in London that specialises in leg ulcers. They tried all sorts of different things but nothing would work. I even had a skin graft in 2009. I really hoped that that would work but it didn't. That's when I lost all hope. I just felt like it would never heal. That I would always be in pain.
"I'd wish that I had a broken leg instead because at least a broken leg would heal."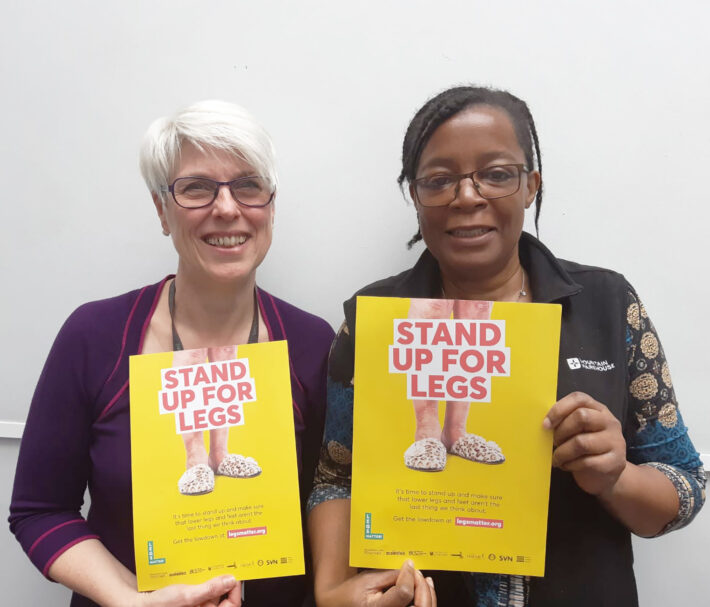 It wasn't just the unbearable pain that Pamela had to deal with but the impact that the leg ulcer was having on her family:
"I couldn't do things with my children that I wanted to.  My brother would take them skating in Regent's Park but I could never join them. They're older now but I'll never get those years back. It makes me sad when I think about those memories I missed out on because of the ulcers."
Pamela was eventually referred to a specialist leg ulcer clinic in East London where she began intensive compression therapy.
"Since starting compression at the clinic, my ulcers began to heal. I was doing well, but unfortunately the skin on my leg has recently broken down again. It's something that I will always have to live with and work with the clinic to manage."
 "The main thing is that I now have hope. I believe I can heal."
Want to know more?
Discoverer more about sickle cell disease and how it can lead to a leg ulcer.
Other support
Accelerate Based in East London, Accelerate can accept national referrals from your GP / specialist to our world-class centre where we pioneer and trial experimental new treatments for chronic leg ulcers / wounds, lymphoedema and mobility challenges.
Contact details
020 3819 6022
hello@acceleratecic.com
Find out more on the Accelerate website
NHS Choices the official NHS website, which provides vital information and support about leg and foot signs and other symptoms.
Contact details
Call 111 - for non-emergency medical advice
Find out more on the NHS Choices website
Mind Mind is the UK's leading mental health charity. They're there to make sure no one has to face a mental health problem alone you can call or text for free anytime.
Contact details
0300 123 3393 or text 86463
info@mind.org.uk
Find out more on the Mind's website
Tell us what you think
If there's anything you want to ask us or tell us, whether it's a suggestion about our website, a complaint, or a compliment, drop us a line at
support@legsmatter.org