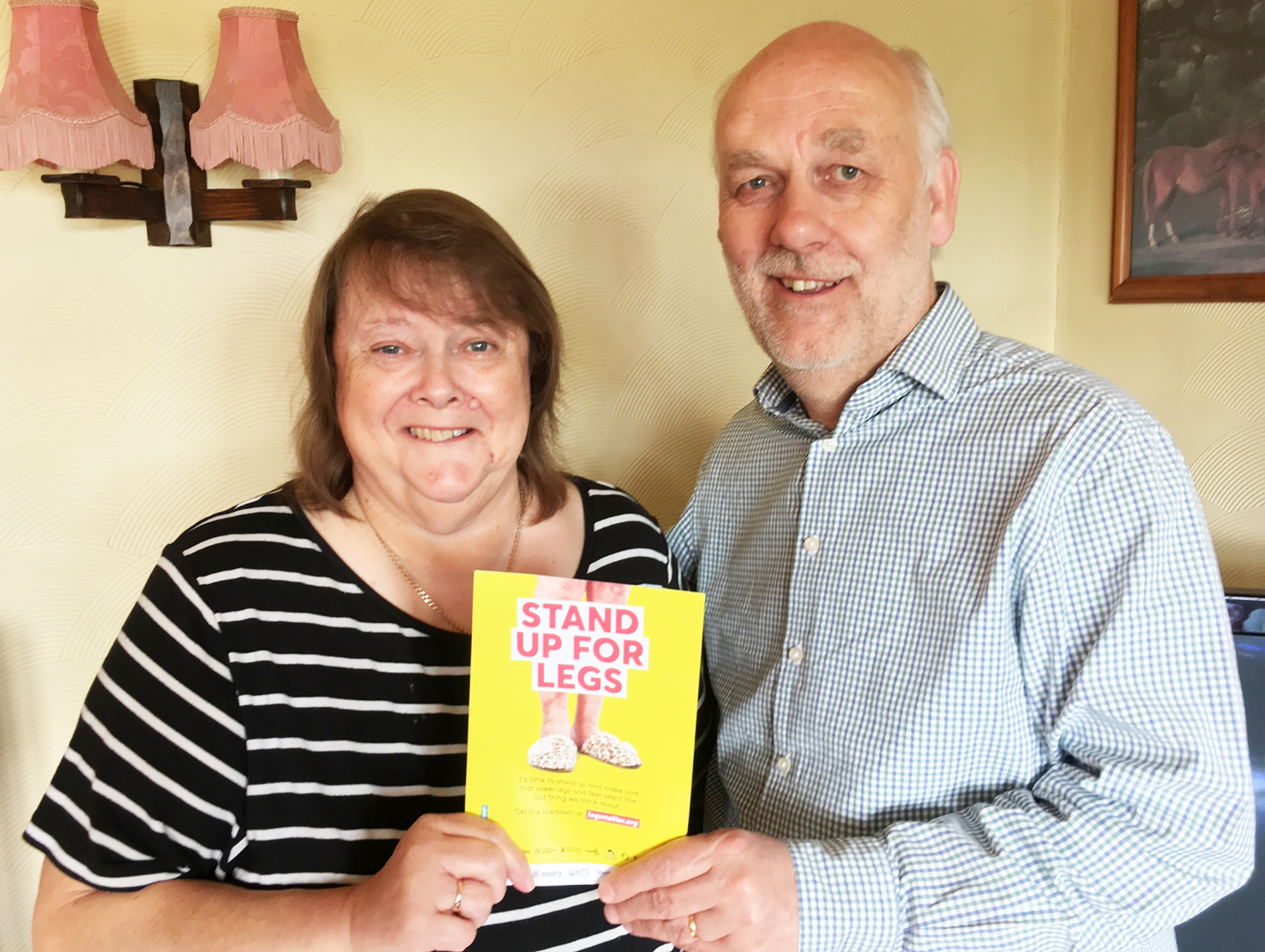 Sue's 62 and lives near Boston, in Lincolnshire with her husband. She's a grandmother of two and worked in customer services before retiring. Sue's problem with her legs and feet can be traced back to a devastating cancer diagnosis 14 years ago. 
"I was in my late 40s when I started feeling unwell. I was so sick that I couldn't even keep water down. I had a scan, which showed dark spots on one of my kidneys. When the results came back and the consultant told me it was cancer, I was devastated."
Sue began treatment for renal cancer. The treatment was successful but it left Sue with some serious side effects:
"I was back at work, and I noticed that my leg was dripping. I had a tiny scratch on my leg that just kept on dripping.
"I wrapped kitchen roll around my leg to soak up the fluid. Within two hours I'd used up the entire roll."
Sue was diagnosed with lymphoedema and began compression therapy to treat it:
"I was sent to the lymphoedema clinic and they gave me some stockings that were really thick and tight. The scratch on my leg had turned into an ulcer by this point, so they sewed some silk into the stockings to stop it rubbing. But the silk kept on slipping and the bandages would rub the ulcer until essentially I had a hole in my leg."
Sue's chronic wound proved exceptionally hard to treat, leaving her in significant pain and often housebound:
"At one stage, the wound was green. My legs and feet were so swollen from the lymphoedema that I couldn't even wear shoes, but I wasn't able to use compression bandages because of the open wound. I just didn't leave the house. My family all live in London and my husband and son were both out at work all day so I wouldn't see anyone all day.
"Being housebound also affected my weight. When you can't leave the house for years, you're going to put on weight. Being overweight makes the lymphedema worse but I can't exercise because I can't walk easily. It's a vicious circle."
"People don't realise how serious leg and foot problems are. You think it's just a scratch and then you end up with no life."
Sue eventually found some success with compression wraps rather than bandages, but her problems with her legs and feet continued:
"My legs and feet kept on getting infected. In one year alone, I had 14 infections. Last year, I got an infection in my leg that caused fluid to build up around my heart. It's left me with heart problems, which makes compression difficult."
Sue wants people to understand the ripple effect that something as seemingly small as a leg or foot wound can have:
"I tell people that I went to bed at 50 and I woke up in my 60s. It's like I've lost 13 years of my life. I can't go round to friends anymore because I worry about leaking. My grandson is ten now and he has never seen me without a bandage on my leg.
"Get your legs and feet checked. Don't get to the stage where I am now where you have almost lost all hope."
Watch our film
Hear from other people sharing their own experiences
Other support
Accelerate We have a clear vision at Accelerate – Our vision is to boldly transform chronic wound and lymphoedema care. And we do this by developing and increasing access to world-class treatments and thinking in chronic wound and lymphoedema care. We're based in East London but can accept national referrals from your GP / specialist to our world-class centre where we pioneer and trial experimental new treatments for chronic wounds, lymphoedema and mobility challenges.
Contact details
020 3819 6022
hello@acceleratecic.com
Find out more on the Accelerate website
NHS Choices the official NHS website, which provides vital information and support about leg and foot signs and other symptoms.
Contact details
Call 111 - for non-emergency medical advice
Find out more on the NHS Choices website
Tell us what you think
If there's anything you want to ask us or tell us, whether it's a suggestion about our website, a complaint, or a compliment, drop us a line at
support@legsmatter.org