Janis is 69 and lives in a small village on the northeast coast of Scotland with her husband. An avid golfer and former Guide Dogs worker, Janis was diagnosed with Type II diabetes when she was in her 40's.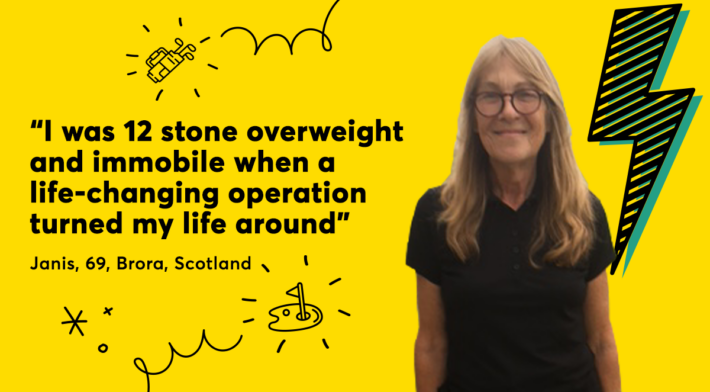 "Many years ago, I was diagnosed with diabetes. Diabetes doesn't just affect one part of your health – it affects everything – it also causes neuropathy (lack of sensation in the foot). I was also diagnosed with fibromyalgia, which causes debilitating and unspecified pain all over the body, so that made it even harder for me to lose weight and keep my diabetes under control"
Janis' weight continued to increase over the years until her doctor gave her a terrifying ultimatum:
"The doctor basically said to me "If you don't do something, you will die". At this point, I was 12 stone overweight and had tried every diet going. My eating was out of control. Nothing was working and I couldn't even play golf anymore. I was just sinking into the depths of depression. I realised that weight loss surgery was my only option"
By this time, Janis had moved to Scotland, where the criteria for weight loss surgery is different, she was not eligible for treatment on Scotland's NHS:
"I was so shocked when I heard this. I assumed it was like England where the criteria for weight loss surgery is not as strict as it is in Scotland. Luckily for me I was just retiring from work, and I had a lump sum. I decided to use this money to have the surgery done privately – I had no other option"
Janis had gastric bypass surgery, and the results were instantly transformative:
"I went into surgery as a diabetic. I came out and I wasn't. It was an amazing turning point for me. It meant no more daily injections and medications. I lost 12 stone in weight within a year. This transformed me – not only my appearance but I went from not being able to walk 100 yards and in tears every day from the pain to being able to play golf again and just have a normal life"
Ten years on from the surgery, Janis still lives with some of the effects of her diabetes and the weight loss surgery:
"I will always have to take supplements every day to replace the nutrients I've got from the food before. I still see my podiatrist regularly because the neuropathy from the diabetes has left lasting nerve damage in my feet. But that's nothing compared to the pain I was in before. The surgery has given me my life back"
Janis' advice for people who are also struggling with obesity and the impact it has on their lives is to explore all options and to not rule out weight loss surgery if it has been advised:
"I know people can be terrified of major surgery like gastric band surgery, but it saved my life. I'd urge anyone reading this who is concerned about the impact their weight is having on their lives, including their leg and foot health, to grasp the nettle and do what it takes to turn your life around. I'm living proof that it can be done"
Other support
If you've been affected by any of the issues raised in theses stories, the following organisations may be able to provide help and advice.
Diabetes UK Diabetes affects more people than any other serious health condition in the UK. More than dementia and cancer combined.

Diabetes UK are the leading UK charity for people affected by diabetes it's their responsibility to lead the fight against the growing crisis. And this fight is one that involves all everyone – sharing knowledge and taking diabetes on together.

Contact details
0345 123 2399
helpline@diabetes.org.uk
Find out more on the Diabetes UK website
Mind Mind is the UK's leading mental health charity. They're there to make sure no one has to face a mental health problem alone you can call or text for free anytime.
Contact details
0300 123 3393 or text 86463
info@mind.org.uk
Find out more on the Mind's website
Tell us what you think
If there's anything you want to ask us or tell us, whether it's a suggestion about our website, a complaint, or a compliment, drop us a line at
support@legsmatter.org