The challenges of living with lymphoedema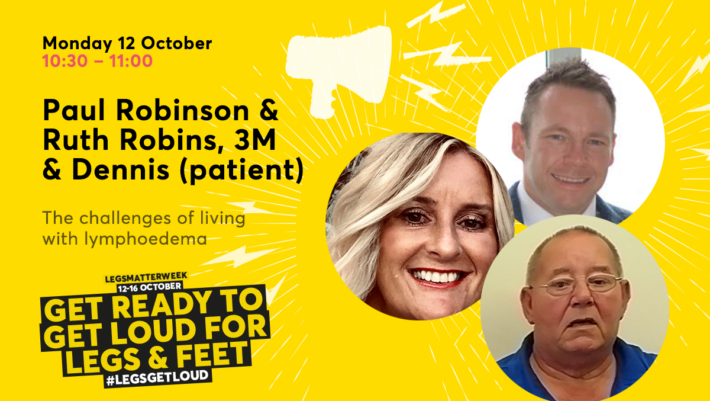 WATCH THE VIDEO ON YOUTUBE NOW
What's it about?
We are looking at Dennis' journey and the importance of finding the right therapy to treat his condition. Dennis has had lymphoedema for 10 years and this has had a huge impact not only on his life, but on his family's life also. Dennis will talk through his journey looking at various therapies and the challenges they brought to finding the right system that has turned his life around.
Who's it suitable for?
Everyone – whether you're struggling with lymphoedema, chronic oedema or chronic lower limb ulceration yourself, or you know someone with any of these conditions or you work in healthcare and you want to learn more about how treatments can impact patients life and wellbeing.
Who's running this event
Your hosts are:
Dennis – Patient
Paul Robinson – Compression Specialist, 3M
Ruth Robins – Clinical Specialist, 3M
3M, with newly acquired KCI, connects science, clinical insight and people to find solutions that make better health care possible. From prevention of skin breakdown and managing complex wounds to keeping people free from preventable infections, our unique collaborative culture and engagement with healthcare professionals enables us to develop proven technologies for high quality, cost-effective care.