Leg cramps: what's normal and what's not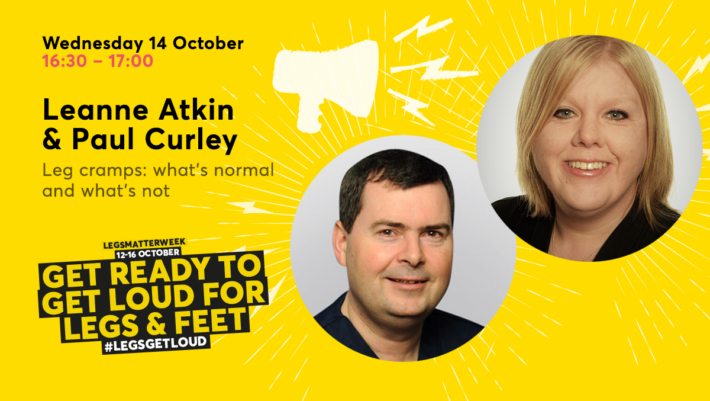 What's it about?
Leg cramps are common and often nothing to worry about but sometimes they can be a sign of something more serious. In this session, vascular nurse consultant Leanne Atkin talks to vascular surgeon Paul Curley about the differences between normal muscle cramps and cramps that we need to pay attention to. You'll also learn the important steps you can take to keep your legs and circulatory system healthy.
Who's it suitable for?
Everyone – whether you're struggling with leg cramps yourself, know someone who is or just want to know what to look out for. This session is also perfect for anyone working in healthcare who wants to learn more about legs and the circulatory system from two leading vascular experts. This session will run for 20 minutes with 10 minutes for audience Q&As.
Who's running this event
Your hosts are:
Dr Leanne Atkin, Vascular Nurse
Mr Paul Curley, Vascular Consultant
The Society of Vascular Nurses (SVN). The SVN is a professional, membership organisation for vascular nurses throughout the UK who provide optimal care for vascular diseases. Through their culture of sharing, they offer excellence in clinical practice, education, research and professional networking in order to strive for optimal care for patients with vascular disease.